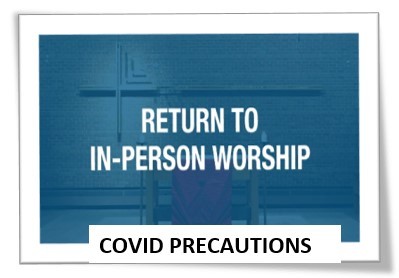 COVID-19 has created some unique and significant challenges to what we've
defined as "normal" for our weekly church gatherings.
While a return to physical church gatherings will offer varying levels of comfort and
familiarity, it's important to note that there will also be a number
of different experiences from we are used to.
We are committed to providing both a safe and high-quality experience Sunday morning that you will enjoy attending—and that you'll be proud to invite your friends to attend.
* MASKS are
required -- whether vaccinated or unvaccinated.
*
TEMPERATURE CHECKS will be given.
*
SEATING
will be in the sanctuary and
Multipurpose Room only, using social distancing.
*
COMMUNION:
We will continue to
administer communion using the pre-packaged cups.
*
OFFERING:
We will continue using
the black lock boxes at each entrance for depositing offering.
* EXITING: All congregants will be asked to exit through one door in the sanctuary.
2 Timothy 1:7 reminds us that God has not given us a spirit of fear, but of power,
and of love, and of a sound mind.