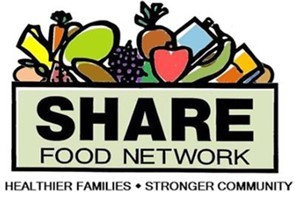 **Due to COVID-19, our SHARE Food Program**
is inactive until further notice.
S

HARE's Mission:
SHARE (Self Help And Resource Exchange) is a non-profit, community-building network dedicated to the following: * Providing wholesome and nutritious food to families and individuals at a reduced cost * Promoting volunteer service in our communities * Building partnerships with community organizations, SHARE is committed to supporting local community groups where all may participate, serve, and lead with dignity.
SHARE DC-Metro serves an average of 12,000 families each month through a network of 300 volunteer Host Sites. These organizations include churches of all denominations, senior centers, military installations, Head Start programs, schools, tenant associations, etc.

Who can participate? SHARE is a self-help program that is open to anyone who wishes to participate. If you eat, you qualify! There are no income restrictions. The food package contains frozen meats, fresh fruits and vegetables, and staple items such as rice, pasta, beans, and potatoes. SHARE helps families to stretch valuable food dollars. Monthly value packages cost just $23 and include $40-$45 worth of basic and healthy groceries; always four to six pounds of frozen proteins and 8 to 12 pounds of fresh fruits and vegetables, sometimes with seasonal grocery or dessert items.
We meet once a month (usually on the fourth Saturday) around 8 a.m. to 9 a.m. unload, unpack and fill boxes for participants.
Volunteers are needed to serve as drivers and packers. If interested, please contact the office at 301-375-9088.